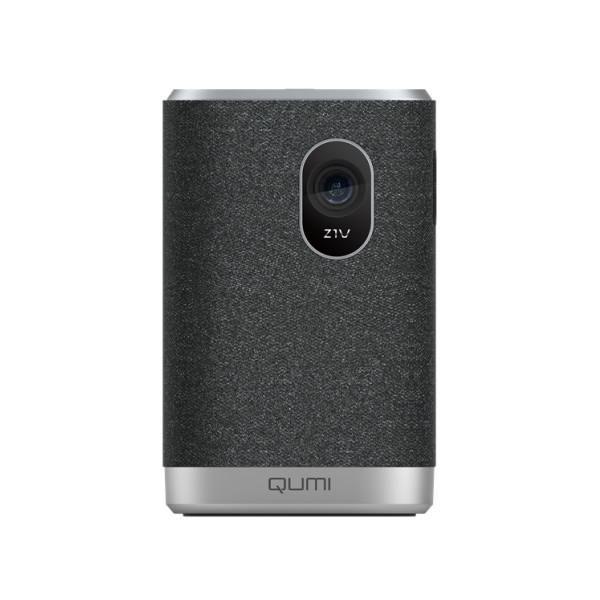 VIVITEK Afstands Calculator
De calculator van Vivitek helpt u uw installatie te plannen van uw projector.
Merk: Vivitek
Type: Micro, Portable
Lumens: 250
Resolutie: FULL HD (1080)
Key Features:
ideal to carry around thanks to its light weighted design and an embedded battery last up to two hours autonomy with videos and six hours in speaker mode.
Bring your audio ambiance with you thanks to its massive 2x5W Bluetooth sound performances.
Entertaining on the go is made possible thanks to its PCFree multimedia reader via USB. Share a big screen with family and friends.
A great, vivid image. Screen size of up to 75".
Maintenance-free with environmental friendly LED light source lasts up to 30,000 hours.
Enjoy your content in 480p (854 x 480)
All-in-one compact-sized Bluetooth speakers

The Qumi Z1V offers a great image from a portable pocket projector, combined with powerful speakers and a long lasting battery in an allinone, compactsized unit. As it only weights 660g, it is easy to take the Qumi projector to any event where an entertainment centre piece is needed. The Qumi Z1V enables users to enjoy projection with 480p resolution with a screen size of up to 75", at a brightness level of up to 250 lumens and a 10,000:1 contrast ratio. Furthermore, the LEDbased Qumi comes with 30,000 hours of operation and there's no need to change any lamps, making it an ideal long term investment.
Vraag een offerte aan